Free Zoom Webinar – Awakening Inner Peace, Strength, and Joy through Devotion
September 16 @ 10:00 am

-

11:30 am

Free
If you want to come ALL the way home spiritually, you need to ignite the inner flame of Devotion. Yet many of us side-step this crucial aspect of the path because we don't know how to engage it authentically or we associate it with religious systems which we no longer find resonant or, sometimes, we are subtly hiding behind non-dual spiritual concepts!   
In this FREE 90 minute webinar, Miranda will share what Devotion is, why it is so crucial on the path of awakening, and how you can ignite the loving presence of your own deep heart and let its Grace come alive to power your path.
Miranda will speak to the different expressions that devotion can take as your spiritual path evolves.
Sharing prayers and practices that Ramana Maharshi other nondual giants of the great traditions have naturally included as part of their daily lives, you can discover that cultivating a devotional attitude does not have to be "I-Thou", but rather, a way to bring our deep heart and its beautiful qualities more fully alive to support us leading inspired lives.
Join us for this FREE inspiring webinar and discover more about –
The practical power of devotion to change the channel from unwholesome patterns of mind to loving awareness amidst daily life.
Finding YOUR authentic way to pray, even if you are not totally sure what you believe in.
How every Sanskrit mantra is alive with Grace to help purify, refine and expand your consciousness.
How devotional practice evolves as we do and is especially important to offset the common pitfalls of nonduality.
Listen and sing along as Miranda initiates you into a mantra and its transmission.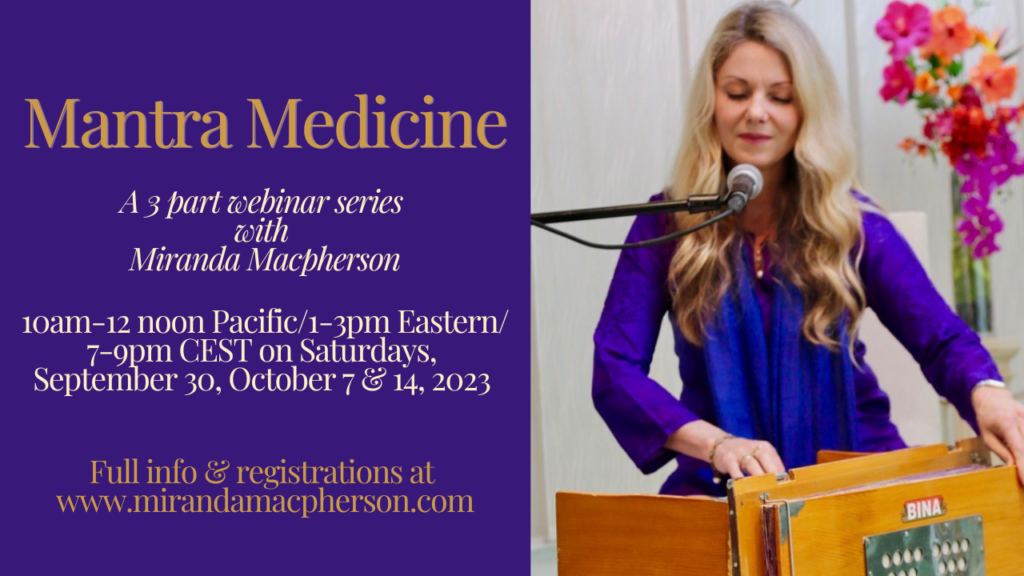 This FREE webinar introduces a brand new 3 part Zoom series with Miranda called MANTRA MEDICINE which will take place from 10am-12 noon Pacific on Saturdays, September 30, October 7 & 14.  
Related Events