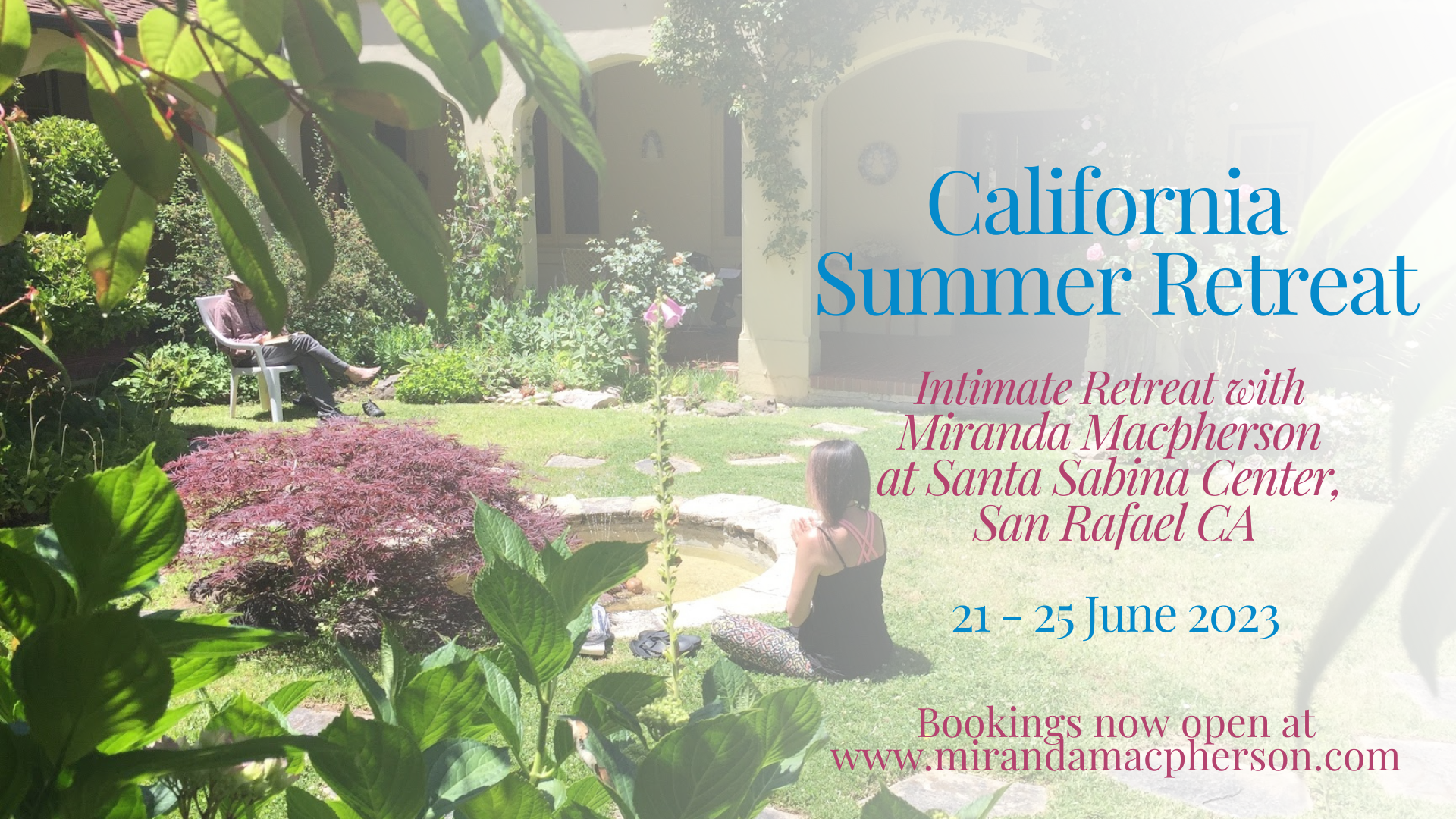 California 5 Day Retreat 2023- Santa Sabina Retreat Center, San Rafael, CA
June 21 @ 3:00 pm

-

June 25 @ 2:00 pm

$1500
This is an exclusive and intimate 5 day in-person retreat with Miranda and 24 others in the peaceful and nurturing setting of the Santa Sabina Center in San Rafael, California.
"If you have worked with Miranda and are looking for a deeper dive into your Being within an illuminated field of deep love, compassion, joy and possibility, in the presence of other soul friends, give yourself the gift of joining Miranda at beautiful Santa Sabina and experience the deep peace, grace, and beauty of this holy ground."

Santa Sabina retreat participant 2022
With such a small group, individual attention by Miranda is guaranteed and she will give teachings that will be most suitable for people who
– Have read and worked through 'The Way of Grace'.
– Have attended at least one In-Person or Home Retreat with Miranda within the last 3 years OR are part of the Living Grace Sangha.
– Are dedicated to being present for the whole retreat .
– Consider themselves dedicated students of this work.
Miranda will confirm the theme for the retreat closer to the time based on what is most needed.
"Miranda is the best spiritual teacher I have encountered in my 35+ years of searching. Her retreats are balanced between delivering moving and meaningful, content and experiential exercises.

Miranda is a master teacher.  She is sincere, generous and thoroughly exemplifies her teachings.

I would highly recommend her retreats if you are serious about your spiritual growth. If you follow her teachings, and  put the effort in, you will grow."

Melanie Murray
"Four days with Miranda and her community did more to help me drop my identities, my fears, my "I don't want it"s and "I have to have it"s than a month-long silent meditation retreat. Her guided meditations made the surrender so gentle and sweet as to be nearly unnoticeable – I just suddenly found myself immersed in universal love.  And the community!! What joy! I might just laugh my way to enlightenment. Who knew ego dissolution could be so fun???"

Santa Sabina retreat participant 2022
RETREAT FORMAT
(All times are in Pacific Time )
WEDNESDAY 21 JUNE
3pm  Onwards – Arrive at Santa Sabina
6 pm  Supper
7.30 – 9.30pm  OPENING SESSION
THURSDAY 22 – SATURDAY 24 JUNE
8am  BREAKFAST
8.45am – 11.45 am MORNING SESSIONS
Includes:
* morning meditation & mantra practice in outdoor Quan Yin garden
* teaching session with inquiry practice
* interactive dialogue together
12 – 4pm  LUNCH & SELF-CARE TIME with specific deepening and self-nurturing recommendations from Miranda.
4 – 6 pm  AFTERNOON SATSANG SESSIONS
An opportunity to bring your most important questions to Miranda.
6 pm  SUPPER
7.30-8.45pm EVENING INTEGRATION SESSION
Chanting, meditation, and sharing our realizations.
SUNDAY 25 JUNE
8.45 – 11.45am – CLOSING SESSION
12 noon  LUNCH
2pm  ALL PARTICIPANTS MUST LEAVE SANTA SABINA
COST
Due to the exclusive nature of this retreat, we are only offering one rate –
Private Single Room with En Suite –  $1500 (All healthy, organic, and wholesome meals and facilitation are included).
We can only accept payment for this retreat via check or wire transfer.
CANCELLATION POLICY
Cancel by April 20th, you will receive a 90% refund.
Cancel by May 30th, you will receive a 50% refund .
No refund is available if you cancel on or after June 5th , if you do not show up, or if you leave the retreat early for any reason. No exceptions can be made.
If you have any questions please click here to email Retreat Manager Jenny Grainger.
SANTA SABINA COVID REGULATIONS (as of 7 March 2023)
We ask that guests be vaccinated and current on boosters. If they are not, then, at their expense on arrival, we will have a LUCIRA home PCR test for them to take.  It will be approximately $40 out of pocket for them.  They will have to test negative to be admitted.  The test takes 30 minutes and is more sensitive than the antigen tests most of us are familiar with.  We actively discourage guests from leaving the center during the retreat.
Vaccination Requirement: All staff, presenters and retreat guests must be fully vaccinated for COVID-19 14 days or more before arrival and, update their vaccination status with booster dose when they are eligible. On the day the given program begins guests must bring:
proof of vaccination status indicating the guest's full name
the date(s) of the specific dose(s)
the type of vaccine received
a driver's license or government ID corresponding to the name on vaccine documentation
Guests will be required to wear masks in all common areas in accordance with California's recent statewide mask mandate.  Click here to see the additional Safety Protocols which Santa Sabina have in place.
If/when these regulations change, we will notify all those who are registered.
TRANSPORTATION
The nearest major airport is San Francisco International. Transportation from the airport is available for $20 by Marin Airporter to San Rafael. Santa Sabina is a 5-minute cab ride from the San Rafael Airporter drop-off.
Related Events