Streams of Grace Concert
December 22 @ 7:30 pm

-

9:30 pm

$20.00 – $100.00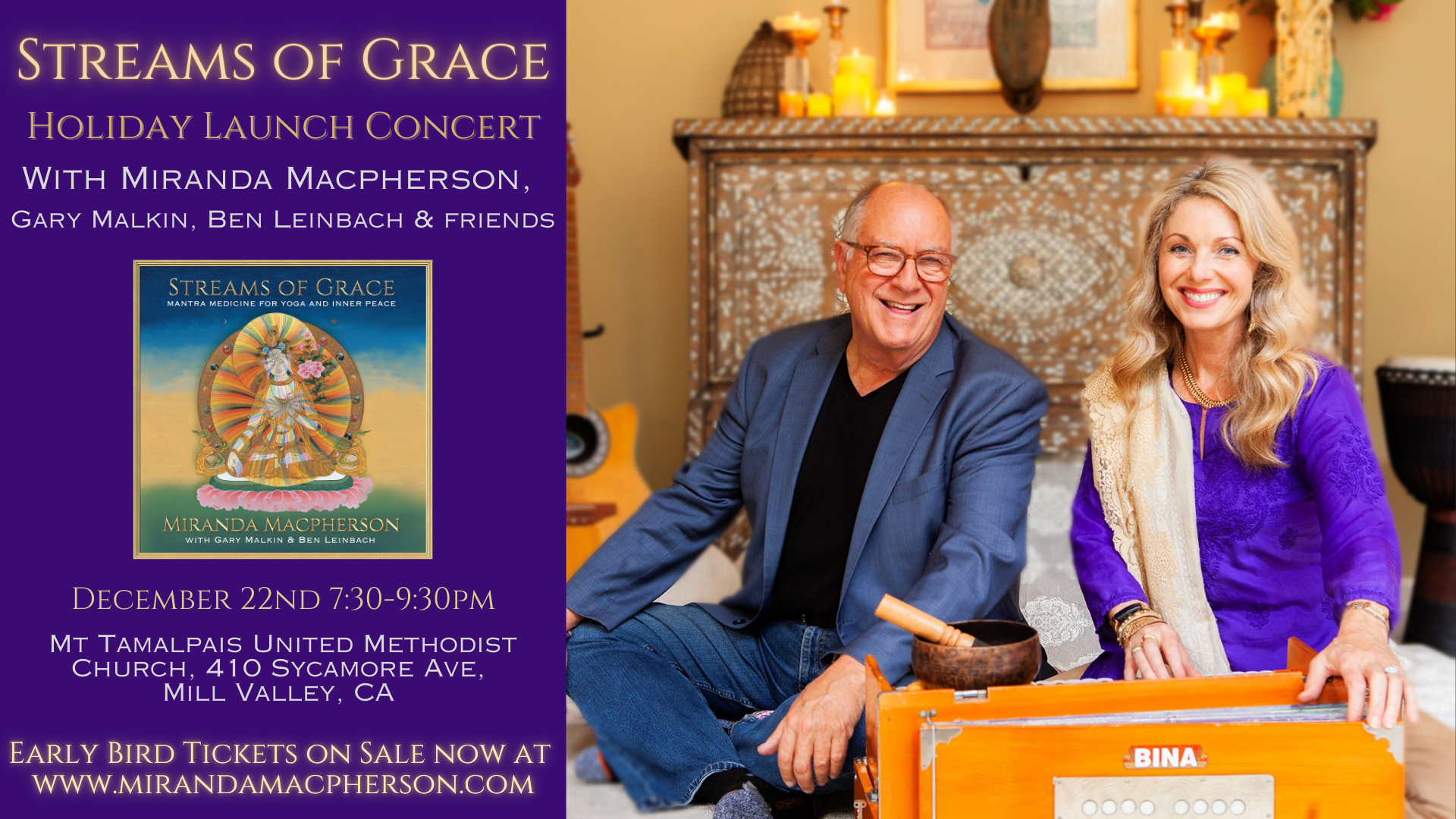 THIS CONCERT WILL NOW BE LIVE STREAMED VIA ZOOM.
You and your loved ones are invited to join us for a sumptuous and supremely uplifting LIVE kirtan concert on the evening of Friday, December 22nd in Mill Valley, CA to celebrate the launch of my album Streams of Grace: Mantra Medicine for Yoga & Inner Peace onto the music streaming platforms.
Creating this album rates as one of the most joyful, enriching experiences of my life. The project felt blessed in every possible way, bigger than any one individual who contributed their considerable gifts, and so I want to share this more fully with you, my local community.
Together with Emmy award winning composer-producer Gary Malkin, iconic kirtan producer-engineer Ben Leinbach, soul vocals from Raz Kennedy, and an ensemble of other gifted professional musicians on cello, tabla/percussion, guitar, and flute, I will be singing the beautiful mantras and chants from this album, and more.
At this special time of the year when the outer world is at its darkest, I hope you will come join us in community to kindle the inner light and pray for peace as we sing along, dance, and let this music transport us all into the pure realms where we all belong.
Our venue is excellent for such an offering, and there is no "dud" seat in the house. Car-pooling is recommended, although parking is plentiful at the church.
Tickets are expected to sell out, so we recommend that you register early to avoid disappointment.
LIVE STREAMING – I encourage you to gather with your spiritual community, friends and loved ones to enjoy this special event so we are offering a special Group Rate of only $100.
The cost to pay at the door is $40 (CASH).
If you haven't already done so, please search for Streams of Grace on your favorite music streaming platform, save it to your playlists, and share with friends!