Like you perhaps, I was looking forward to re-emerging back into a more natural, less restrictive way of being as we transition from pandemic into endemic. However, I am sure you are feeling the impact of war and de-stabilization from the ego-based actions of Putin and the heart-breaking footage we are all seeing in Ukraine, and the humanitarian crisis on its borders.
During such challenging times we can be thankful for so many things, and especially for access to the spiritual resources that can help us to stay peaceful inside, as we pray for peace and understanding to pervade the whole human family, and a swift end to this war.
It is not easy to stabilize in equanimity when confronted by the news of yet another painful explosion of hatred, extremism, racism, or violence, not to mention the increasing natural disasters arising from climate change. It is deeply disappointing to behold leaders behaving disgracefully and ordinary people being aggressed upon with such lack of humanity.
The teachings of Grace and Ego Relaxation that I share do not grasp for a spiritual platitude to push past the challenges of our times that do not have easy answers. While you might want to be selective about the quality and quantity of the media you engage in, at the same time you are unlikely to mature spiritually by living in a news-free bubble, or by dissipating your precious life force energy by losing your inner peace as you face what is. Being a graceful human being means turning everything into the path of awakening. This can include practicing ego relaxation while taking in the news as I talk about in this video which bears watching again and again.
Sometimes when what I am seeing is more heart-breaking than I feel I can bear, I turn into mantras – living streams of Grace that contain the love and spiritual support of all the beings throughout the ages who have turned into them to find and radiate peace. Find out more here.
As I sit with suffering, be it within myself or with those I love or listening to the daily horrors presented via the news each night, I am reminded that we must reach deeper and further into our spiritual essence to help us access the Grace we need.
What is our part? Learning to stay present and open-hearted, so we can and BE WITH all things, not collapsing when we of ourselves don't know what to say or do. This is how our essential qualities like compassion, loving-kindness, strength, peace and wisdom can bubble up to the surface, and find their expression in the way we navigate daily life, and guide us how to be of benefit in whatever small practical way we can.
The transforming power of Grace can harness even the most most impossible situations we face on our human journey to bring us to unexpected new possibilities.
This is obvious, I'm sure. You don't need me to tell you that love is meaningful and that kindness matters, is valuable, and important. We need loving kindness like we need oxygen to be there in the next breath. Actually, if we pay attention, we will see that the movement of nature, of trees, of all the plant kingdom is this natural embodiment of a deep spacious kindness – a deep heart that is manifesting through the plant kingdom, that is sucking in, absorbing human carbon dioxide and is giving out beautiful clean life-sustaining oxygen that is nourishing. We need that quality to grow, to open up, to try new things, to be able to let go of what is familiar to us, to take risks, and know somehow, that it will be all right, that it'll be all right.
Of course, the transforming power of Grace can also be fierce and during our Living Grace Global Sangha meeting in March, I gave a dharma talk called AWAKENING STRENGTH, COURAGE AND CAPACITY. You can listen to a short clip here or you can listen to the full talk (and many others) by becoming an Audio Only member of the Sangha here.
This talk included an initiation to Durga – the Hindu warrior goddess of Protection and Inner Strength – and I am delighted to be able to share my version of the Om Durga mantra from my new mantra album Streams of Grace: Mantra Medicine for Yoga & Inner Peace which was born earlier this month.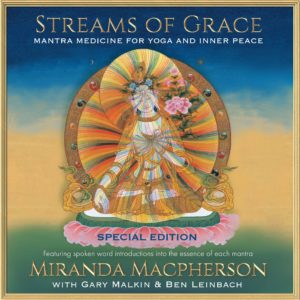 All of the mantras and chants on this album come out of my own devotional practice which is what I turn into as a way to nourish and sustain myself. When the pandemic first hit and the immense suffering in our world would weigh too heavily on me, I would go downstairs to my office, sit at my harmonium and turn into this mantra, calling on Durga – which really is the strength essence within us all, that can rise forth to cut through the tough, difficult forces of ego that we sometimes need to face down in ourself, within our important relationships and also in our world.
I tend not to go to YouTube to find a version of a mantra I like but rather I meditate upon the syllables of a mantra and then listen and let the tune come to me. This tune that came is based on an ancient Indian Raga. It not only conveys a triumphant, enlivening quality, but it also happens to be joyful and uplifting. That's because ultimately, what is false in us all will not ultimately stand. Deep Truth not only sets us free from our neuroses and delusions, but ultimately, Truth always wins. I hope that you will sing along or listen, and meditate on that for yourself and for the people of Ukraine.
You can download and enjoy this plus the other 7 mantras on the Special Edition of STREAMS OF GRACE which includes short meditative introductions into the essence of each mantra, supporting you to engage fully with its medicine.
With love to you and prayers for peace and understanding to pervade the whole human family,

If you would like to support these teachings on Grace and Ego Relaxation moving deeper and further into the world, you are welcome to make a contribution towards our general operation. Your financial generosity makes it possible for Miranda to offer these teachings as widely as possible, which is our goal. All donations go directly towards producing further audio and video teaching resources, and offering partial scholarships to those sincerely wanting to participate in retreats (organized by us) who otherwise would be unable to partake. Click here to donate.