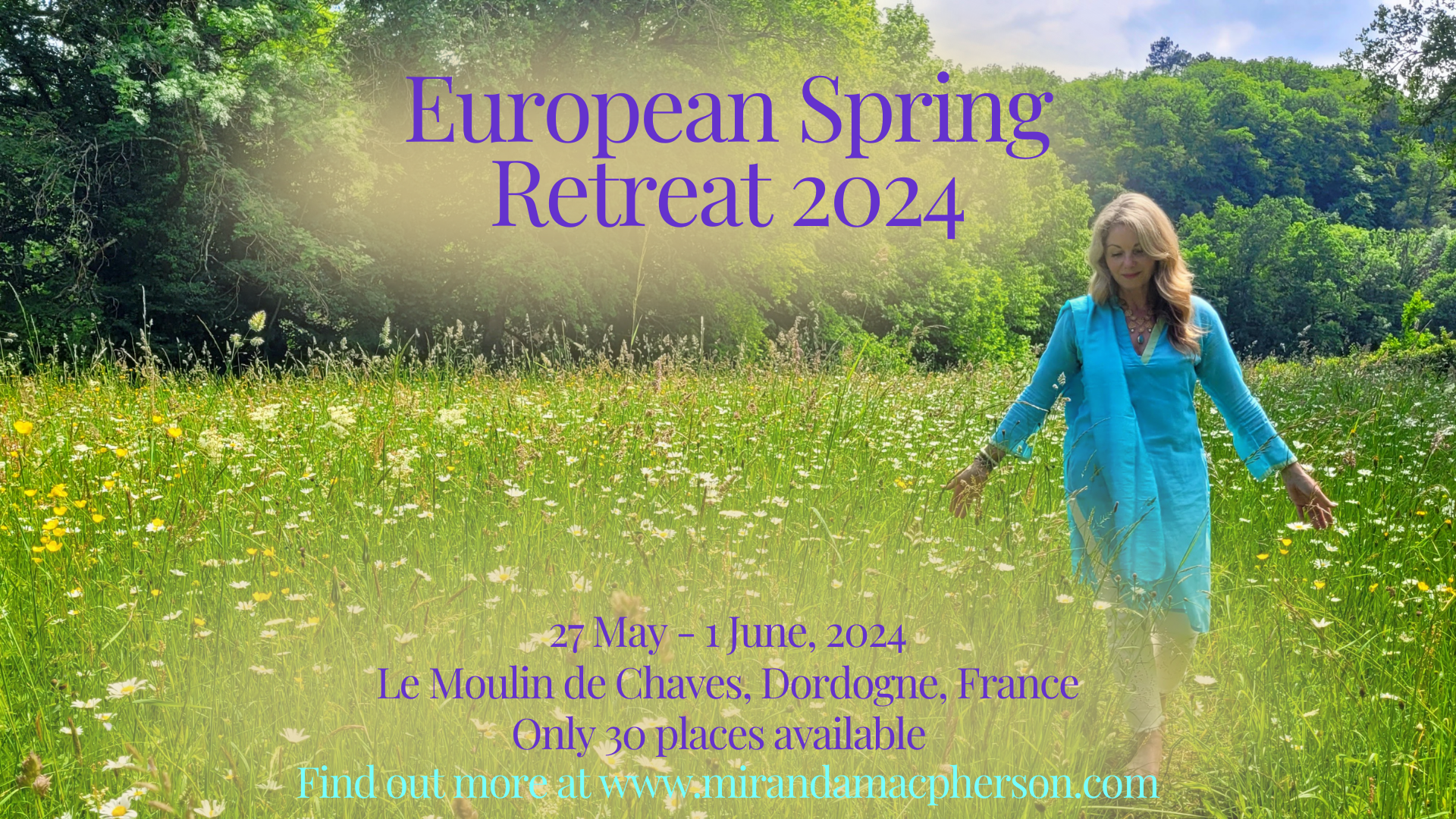 5 Day Residential Retreat at Le Moulin de Chaves, Dordogne, France
May 27, 2024 @ 6:00 pm

-

June 1, 2024 @ 2:00 pm

$550.00
You are invited to join us for a deeply transformative residential 5 day retreat full of profound spiritual teaching, supported self-inquiry, meditation, chanting and prayer at the beautiful, peaceful Moulin de Chaves in the heart of France's stunning Dordogne region.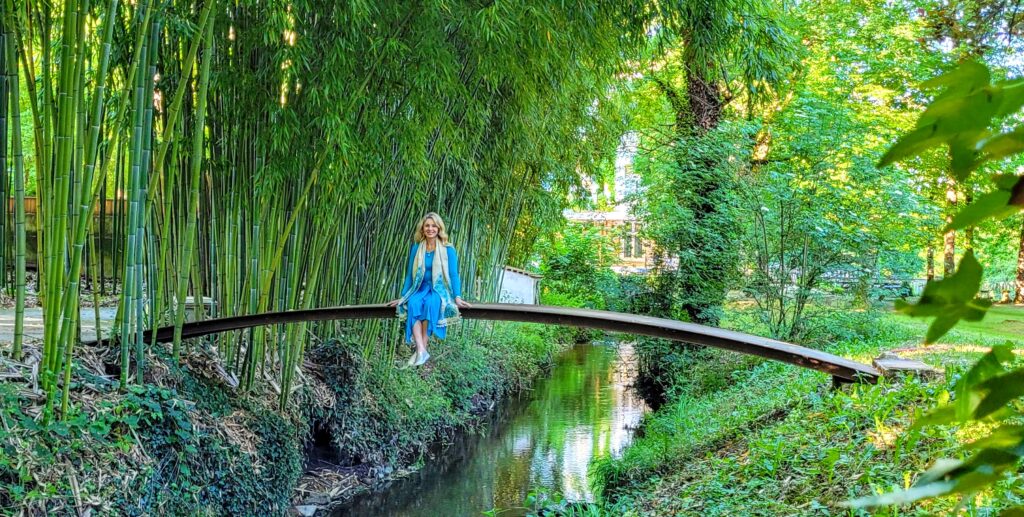 This retreat for a small group of only 30 people is the sole opportunity to work in person with Miranda in Europe during 2024.  With that in mind, early registration is highly recommended as this retreat will sell out.
These five days at Le Moulin de Chaves provide a nurturing container to leave distractions behind and journey into the themes that matter most to you.  Although the theme for the retreat will not be confirmed until closer to the time, the format is experiential and powerfully transformative. Miranda will share new practices to help you function in daily life from inner guidance rather than conditioned patterns of mind. She will guide you on how to surrender, ask and listen, and give expanded teachings on the practice of meditation, devotion, prayer and self-inquiry.  In addition, there will also be 3 BreathWork sessions with skilled facilitator Heleen Huslcher to support and deepen the work of Ego Relaxation (see more below).
With such a small group, individual attention by Miranda is guaranteed.
In previous years our retreats at Le Moulin de Chaves have attracted people from France, Holland, Belgium, Austria, Germany, Turkey, Spain, Ireland, UK, Iceland, USA, and Canada and we anticipate the same wonderful cultural diversity in 2024.  Find out below what they have to say about their experience of previous retreats with Miranda at Le Moulin de Chaves.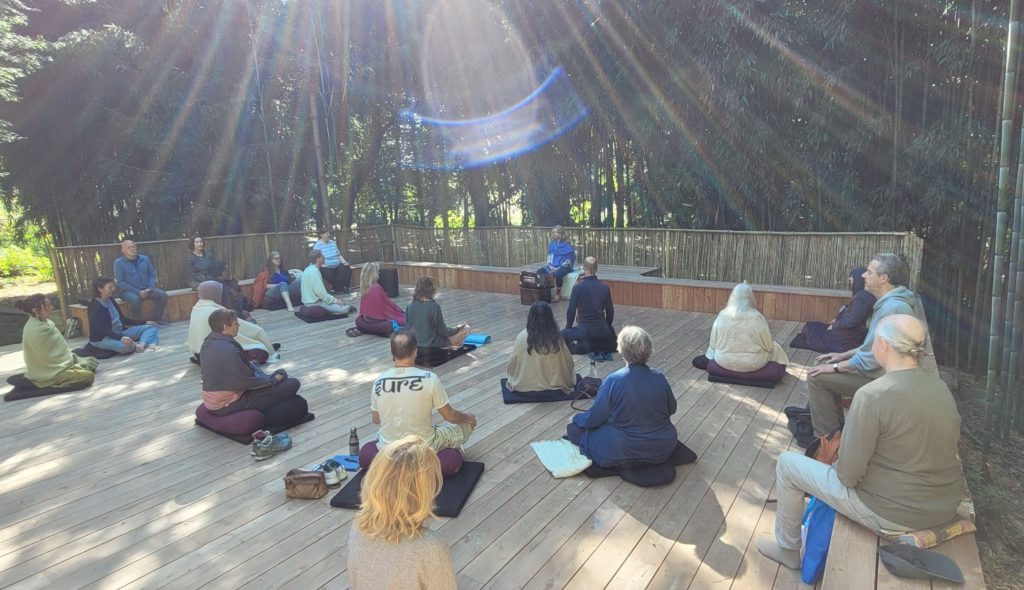 Le Moulin de Chaves is, at heart, a place to BE and to put aside the outer focused busy-ness of our everyday lives and turn inwards to explore body, heart, mind, and life.  It has been a centre for meditation and contemplative practice for several decades and the energy of all that focused practice is palpable in the stillness and beauty of the surroundings. 
The Moulin is set in beautiful grounds with shady riverbanks and bamboo groves. Contemplative practice is supported by an environment of deep kindness and care, and delicious, organic vegetarian meals. 
Once you have booked your place on this retreat, you will be invited to join a private Facebook group for this retreat where you can connect with others attending and possibly arrange to travel together.
Previous participants from our retreat at Le Moulin in 2022 recommend arriving locally at least 1 day before the retreat and many of them combined the retreat with a vacation in the Dordogne which is one of the most beautiful regions of Europe.  Closer to the time, Retreat Manager Jenny Grainger (who lives in the Dordogne) is happy to give recommendations on where to visit.  Périgueux is the closest large town to Le Moulin (about 20 mins drive).
FLYING: Most participants fly to Bordeaux airport.  In 2024, we hope to be able to provide coach transport for you direct to Le Moulin (at additional cost).  Otherwise you can either hire a car or take a 30 min shuttle bus to Gare St Jean in Bordeaux followed by train to Périgueux.  It is possible to organize a taxi from Périgueux via Le Moulin's website here.  You can connect with others who wish to share a taxi via the private Facebook group which will be set up for the retreat.
Bergerac and Limoges airports are both smaller but closer than Bordeaux but you would need to hire a car to reach Le Moulin as public transport is limited.
BY TRAIN: The nearest station is Périgueux.  It is possible to organize a taxi from Périgueux for several people who meet arrive at the station around the same time.  Find more on Le Moulin's website here.
BREATHWORK WITH HELEEN HULSCHER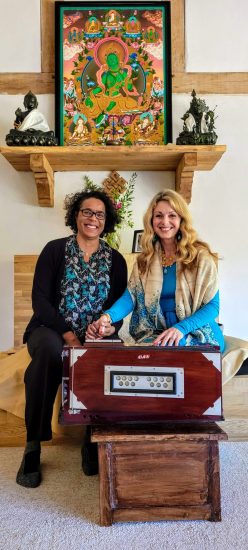 An integral and important part of this retreat is the 3 BreathWork sessions which Heleen Hulscher will lead alongside Miranda in order to deepen your process of Ego Relaxation.
Heleen is a trainer & coach at the Venwoude Levensschool in The Netherlands as well as being a member of our Living Grace Global Sangha.  
Healing and Ego Relaxation through BreathWork is at the core of all the work Heleen has been offering since 2003.  BreathWork is a way of doing shadow work, which is relevant in an integral approach. By doing shadow work you become more whole.  This supports Ego Relaxation.
Find out more about Heleen and her work here.
In order to keep the accommodation costs to a minimum for you and because Le Moulin de Chaves is a not-for-profit retreat centre predominantly serving meditation and yoga retreats and to keep in line with the monastic traditions and Buddhist Vipassana insight Meditation/Thervada values, they ask that all participants offer 50 minutes per day of Work periods/karma yoga.
Karma yoga is a practice that supports the running of Le Moulin and is an integral part of being on retreat there.  Participants help in areas such as kitchen, chopping veggies, washing dishes, gardening, weeding, sweeping paths, household such as cleaning communal areas, bathrooms etc.  This contributes to lower daily rates for participants and can help integrate meditation/ mindfulness and yoga practice into everyday activity.  The main Karma yoga is at 08h40 and again after the lunch and supper period to help with the washing up.
Silence will be observed each morning until the close of our morning practice and also in the main house at all times.
WHAT PREVIOUS PARTICIPANTS SAY
Going on a retreat with Miranda is the biggest gift you can give yourself. Working with Miranda has changed my life for the better, that's for sure. Meeting her in person adds so much flavour to the retreats. She is lively, joyfull, totally committed, and very present. Meeting Miranda felt like coming home at last.
The retreat was a rich experience including mantras , body prayer, meditation, enquiry, breath work and sangha. Miranda is a highly skilled spiritual leader with a vast range of experience from different faith paths although she has tremendous depth. She also has a wicked sense of humour , deep humanity and irrepressible passion.
The retreat at le Moulin was excellent in every way, from being in the most beautiful location conducive to peace and relaxation to the fact that the team had organized everything you could possibly need for your stay. Miranda's teaching facilitated deep healing and profound realizations,coupled with being down to earth and fun. The in person experience in this amazing venue was really powerful and I am so glad to have take the time to do it.
This was a beautiful experience.  The venue, food, and setting were exemplary.  Everything was well managed and gracefully held.  And, of course, the content, Miranda's teaching, and the breathwork were all revelatory.
The opening, softening, allowing invitation of Miranda's powerful work was refleclected in every interaction I had...with Miranda, with Jenny, the Moulin team, and the other participants.  I am so grateful for this transformative 5 days of magic!
What a truly memorable, powerful and transformative week in the beautiful Moulin, it held us all so tenderly as we dived very deeply. Miranda, Jenny and team at the Moulin were magnificent as they cared for us and for the space in such a gentle and reverent way. 3 weeks later I still feel more spacious and refined in my being as I integrate some powerful openings and realisations.
WE ASK THAT YOU DO EVERYTHING POSSIBLE TO ARRIVE BEFORE SUPPER ON THE 1ST DAY AND TO STAY UNTIL AT LEAST 1PM ON THE FINAL DAY. LATE ARRIVALS AND EARLY DEPARTURES CAUSE DISRUPTION FOR MIRANDA AND THE GROUP.
(All times are in Central European Time )
MONDAY 27 MAY
14h00 onwards – Arrive at Le Moulin
18h00  SUPPER
19h45 – 21h45  OPENING SESSION
TUESDAY 28 – FRIDAY 30 MAY
07h30 BREAKFAST FOLLOWED BY KARMA YOGA (see below)
08h40– 09h20  KARMA YOGA (see above)
09h30 – 10h20  MORNING PRACTICE (Meditation & Mantra)
10h20-12h45 MORNING SESSIONS which include:
* teaching session with inquiry practice in pairs
* interactive dialogue together
13h00 – 16h00  LUNCH & SELF-CARE TIME with specific deepening and self-nurturing recommendations from Miranda.
16h00 – 18h00  AFTERNOON SESSIONS which include BreathWork, mantra, and other practices.
18h00  SUPPER
19h45 – 21h45 – SATSANG which offers the opportunity to bring your most important questions to Miranda.
SATURDAY 1 JUNE
07h30   BREAKFAST
08h40- 9h20    KARMA YOGA & VACATE ROOMS
10h00 – 13h00  CLOSING SESSION
13h00  LUNCH
14h00  ALL PARTICIPANTS MUST LEAVE LE MOULIN
The cost to attend is made up of 2 separate payments. 
Miranda's Teaching Fee is $550USD (paid directly to her when you register). 
You then have a choice of accommodation options ranging from €410-€535 as listed below.  Le Moulin opens bookings for accommodation in January 2024.  Those who have registered and paid the facilitation fee via this site before then will be notified by email as soon as accomodation bookings open.
TEACHER'S FEE: 
(payable upon registration) $550 (approx. €500 at time of listing)
CANCELLATION POLICY (for Facilitator's Fee)
If you cancel – We offer a refund of your fees less a $100 administration fee until 15 April 2023. No refunds of facilitation fees will be available after that date.
If, for any reason, we are forced to cancel, you will receive a full refund of your facilitation fees less PayPal fees.
ACCOMMODATION FEES are payable directly to Le Moulin once their website is open for reservations which will be during January 2024 and based on the provision of Karma Yoga as detailed above.
Shared room (shared bathroom):  €410
Shared room (en suite bathroom): €510
Single room (shared bathroom):  €460
Single room (ensuite bathroom):  €535
Given that we are listing this retreat before Le Moulin has announced its accommodation prices for 2024, it is possible (although highly unlikely) that there may be a slight increase in the prices listed below.  We will notify you immediately if this happens and you will have the opportunity to receive a full refund of the Teacher's Fee (less PayPal fees) if you change your mind at that stage.
Click on TICKETS below to register with us and pay the Teacher's Fee of $550 now. This confirms your place on the retreat.
We will email you in January 2024 as soon as Le Moulin open their accommodation bookings.  
Once your accommodation has been booked, you should then make your travel arrangements.  Click here or read above for full info above about how to get to Le Moulin.  Once you register, you will be invited to join the private Facebook group for the retreat so that you can connect with others who are travelling.  We will let you know closer to the time if we have been able to arrange coach transfer from Bordeaux airport to Le Moulin (not included in the cost).
We highly recommend that you add some extra time before or after the retreat to explore the Dordogne which is truly stunning and provides the perfect backdrop to integrate your realizations from the retreat.  Retreat Manager, Jenny Grainger,who lives locally is happy to give advice on where to visit or stay.
Related Events