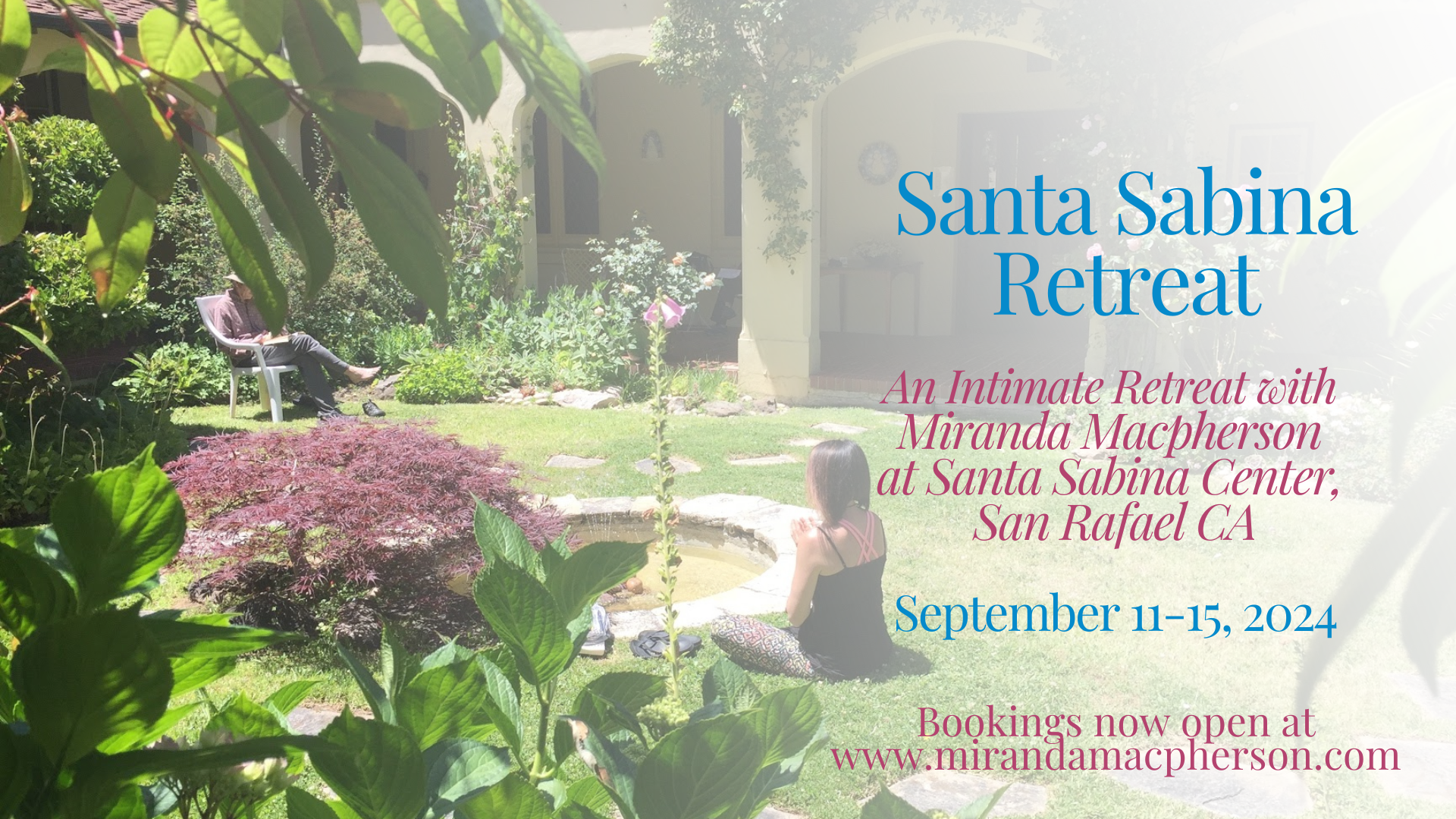 California 5 Day Retreat – Santa Sabina Retreat Center, San Rafael, CA
September 11, 2024 @ 3:00 pm

-

September 15, 2024 @ 2:00 pm
You are invited to join Miranda and a small group of 24 people for 5 days of profound spiritual teaching, supported self-inquiry, meditation, chanting, and prayer in the peaceful and nurturing setting of the Santa Sabina Center in San Rafael, California.
These five days at Santa Sabina provide a nurturing container to leave distractions behind and journey into the themes that matter most to you.  Although the theme for the retreat will not be confirmed until closer to the time, the format is experiential and powerfully transformative. Miranda will share new practices to help you function in daily life from inner guidance rather than conditioned patterns of mind. She will guide you on how to surrender, ask and listen, and give expanded teachings on the practice of meditation, devotion, prayer and self-inquiry.
With such a small group, individual attention by Miranda is guaranteed.
Please be aware that these retreats at Santa Sabina always fill up so you are strongly recommended to book as early as possible to avoid disappointment.  Also, with Santa Sabina currently on the market for sale, this year may be the final chance to join Miranda there.
Miranda will give teachings that are most suitable for people who: 
– Have read and worked through 'The Way of Grace'.
– Are subscribers of the Living Grace Audio Program.
– Have attended at least one In-Person or Home Retreat with Miranda within the last 2 years OR are a member of the Living Grace Global Sangha.
– Consider themselves dedicated students of this work.
Miranda is the best spiritual teacher I have encountered in my 35+ years of searching. Her retreats are balanced between delivering moving and meaningful, content and experiential exercises. Miranda is a master teacher.  She is sincere, generous and thoroughly exemplifies her teachings. I would highly recommend her retreats if you are serious about your spiritual growth. If you follow her teachings, and  put the effort in, you will grow.
If you have worked with Miranda and are looking for a deeper dive into your Being within an illuminated field of deep love, compassion, joy and possibility, in the presence of other soul friends, give yourself the gift of joining Miranda at beautiful Santa Sabina and experience the deep peace, grace, and beauty of this holy ground.
Four days with Miranda and her community did more to help me drop my identities, my fears, my "I don't want it"s and "I have to have it"s than a month-long silent meditation retreat. Her guided meditations made the surrender so gentle and sweet as to be nearly unnoticeable - I just suddenly found myself immersed in universal love.  And the community! What joy! I might just laugh my way to enlightenment. Who knew ego relaxation could be so much fun?!
WEDNESDAY, SEPTEMBER 11
3pm  Onwards – Arrive at Santa Sabina
6 pm  Supper
7.30 – 9.30pm  OPENING SESSION
THURSDAY, SEPTEMBER 12th – SATURDAY, SEPTEMBER 14th 
8am  BREAKFAST
8.45am – 12 noon MORNING SESSIONS
Includes:
* morning meditation & mantra practice in outdoor Quan Yin garden
* teaching session with inquiry practice
* interactive dialogue together
12 – 4pm  LUNCH & SELF-CARE TIME with specific deepening and self-nurturing recommendations from Miranda.
4 – 6 pm  AFTERNOON SESSIONS
6 pm  SUPPER
7.30-9.15pm EVENING SATSANG SESSIONS
SUNDAY, SEPTEMBER 15th
8.45 – 11.45am – CLOSING SESSION
12 noon  LUNCH
2pm  ALL PARTICIPANTS MUST LEAVE SANTA SABINA
Due to the exclusive nature of this retreat, we only offer one rate and we are unable to offer scholarship places.
Private Single Room – $1500 (All healthy, organic, and wholesome meals and facilitation are included). Each room has a personal sink and vanity. Bathrooms are multiple and not far from any given room.
If you and your friend/partner wish to share a room, please email us.
Payment by check is preferred.  However, if that is really not possible for you then we can make alternative arrangements which may include an additional processing fee.
Cancel before July 19th, you will receive a 95% refund.
Cancel before August 9th, you will receive a 50% refund .
No refunds available if you cancel on or after August 10th , if you do not show up, or if you leave the retreat early for any reason. No exceptions can be made.
SANTA SABINA COVID REGULATIONS 
This is Santa Sabina's policy on October 2023 and may be updated prior to the retreat. We will email any changes to those registered.
Vaccinations, Boosters & Requirements: While vaccination remains the best protection against COVID-19-related hospitalization and death, we have revised our protocols to reflect the most recent information from the CDC.
Unless directed by the program coordinator or presenter, COVID-19 vaccination is no longer required; however, self-testing as described below will be required of all retreat attendees, staff, leaders, and presenters.
Self-Test Requirement:
• Two antigen tests within 72 hours of arrival;
• Provide proof of negative results to the program coordinator;
• A third test administered on the day of arrival. If the group prefers, it may require this
final test to be done on-site before entry into the facility.
The nearest major airport is San Francisco International. Transportation from the airport is available for $20 by Marin Airporter to San Rafael. Santa Sabina is a 5-minute cab ride from the San Rafael Airporter drop-off.
Related Events